"Hello, Sunshine!" The greeting you receive when you enter GloryBeans Coffee House is warm and inviting and definitely an indication of what you can expect next. The hot (or cold) drinks that are served up are sure to make you feel warm and welcomed.
GloryBeans CoffeeHouse has been a downtown mainstay since 2009. After gaining a loyal following for their superb beverage offerings and morning treats, owner Connie Blalock made the decision to add lunch and weekend brunch menus for their customers. Having had delicious pastries, muffins and cakes available for some time, adding tasty crepes, sandwiches and salads to their menu board was met with open arms and happy bellies!
Crepe choices are very creative and will please the sweet or savory-searching diner. They are a great option for any time of the day. GloryBeans is the only place in town to fill your crepe craving. Another unique offering is the Grits bowls—you have to try it to see what all the fuss is about!
If you make a lunch time stop, try the home-made pimento cheese or chicken salad. You can get it by the scoop, in a wrap or as a sandwich. These two southern staples are well-known favorites around town.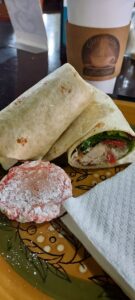 The fresh salads and tasty paninis are other sure-to-please options, but look for seasonal specials as well — Hearty soups make an appearance in the cooler months.
And, your weekend plans definitely should include brunch! In addition to the regular menu items, there is a nice selection of beverages for weekend treats:  Try the House Special Mimosa, Spiked Arnold Palmer, or Spicy Bloody Mary to kick start your day. Of, if you want to stay in the coffee lane, the Irish Cream Liquor Coffee should do the trick!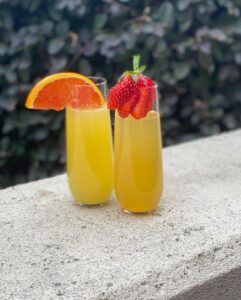 There are lots of seating options in the spacious dining room. You will often find small business meetings at one table alongside a cluster of students working together at the next seating. It's a great space to open your laptop and get some work done or sit a while and visit with friends.
All in all, GloryBeans CoffeeHouse is a great place for a quick stop for an on-the-go morning treat, or when you have time to linger and enjoy a great cup of coffee and conversation.
You can order online and catering options are also available. GloryBeans is open Monday thru Friday 7 am – 4:30 pm;  Saturday 8 am – 2 and  Sunday 10 am – 2 pm
Add a dose of Sunshine to your day — go see Connie and the gang at GloryBeans. You might make a new friend, or find a new "favorite", but one thing is certain: you'll be glad you stopped in.
GloryBeans CoffeeHouse
134 West Main Street
Albemarle
704-550-5427
Glorybeanscoffeehousealb.com